COVID Clean Practicing Business
Start your COVID-19 Practicing Business Module Today!
COVID Clean Practicing Business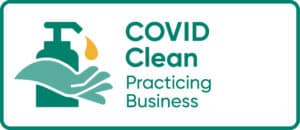 The COVID Clean Practicing Business module is designed to provide businesses with the information and systems to develop COVID19 cleaning procedures to support businesses in their efforts to stop the spread of COVID-19 and to provide an assurance to visitors that these steps are being taken.
On completion of the module, the business will have a customised daily, weekly, monthly and annual cleaning checklists which can be initiated into the business immediately. In addition, the risk register provides support to understand how the business can minimise risks arising from COVID19 and associated business practices.
The program also provides further resources to support staff training including workplace signage/posters.
Business that display COVID Clean Practising Business logo provide a reassurance to customers that they have developed and initiated business practices which are specifically aimed to maintain high hygiene standards within their business aimed to stop the spread of COVID19.
In addition to this module, businesses are encouraged to also undertake the necessary 'State/Territory COVID19 Protocols.
Click Here for instructions on how to apply via our portal. 
ACT – National Capital Attractions Association
P: (02) 6162 4460 E: tourismawards@nationalattractions.com.au
NSW – Australian Tourism Industry Council
P: (03) 9978 6802 E: nsw@QualityTourismAustralia.com
NT Tourism Top End
P: (08) 8980 6023 E: membership@tourismtopend.com.au
Queensland Tourism Industry Council
P: (07) 3236 1445 E: atap@qtic.com.au
Tourism Industry Council SA
P: (08) 8110 0123 E: info@ticsa.com.au
Tourism Council WA
P: (08) 9416 0700 E: tcwa@tourismcouncilwa.com.au
Tourism Industry Council Tasmania
P: (03) 6231 2244 E: info@tict.com.au
Victorian Tourism Industry Council
P: (03) 7035 5700 E: accreditation@vtic.com.au
Australian Tourism Industry Council
200 Alexandra Pde, Fitzroy VIC 3065
(03) 9978 6802